Hanukkah :
The Family Guide to Spiritual Celebration
(The Art of Jewish Living)

By Ron Wolfson
Create a meaningful and happy Hanukkah in your home--with story, celebration, food and song.

This newly-designed, easy-to-use edition of a classic spiritual sourcebook offers updated information, more family ideas, and new resources for every aspect of your holiday celebration. Information on every aspect of Hanukkah is covered, including:
The story of Hanukkah
Celebrating--for families of every constellation
Songs and prayers in English, Hebrew, and Yiddish (with clear transliterations
Recipes for traditional and modern Hanukkah foods
"December Dilemmas"--coping with other traditions' celebrations
Firsthand explanations and ideas from real-life families around America


Hands-on advice and practical suggestions invite families into Hanukkah's spirituality and joys, from the making of luscious latkes and Hanukkah crafts to the stories of the heroism and the miracle that are remembered every year with the lighting of the hanukkiyah.

"A glance at the table of contents, from storytelling to recipes to theology, offers evidence of the author's comprehensive grasp of the family. The book is helpful to the family that strives to induct its members into the spirituality and joys of Jewishness and Judaism." --from the Preface by Rabbi Harold M. Schulweis, Valley Beth Shalom, Encino, California

"Will shed its bright light for all eight days of Hanukkah, and then some--deals sensitively with the traditions of the holiday, as well as with the variety of ways in which modern Jews attempt to grapple with the complex emotions and celebrations of the Christmas and Hanukkah seasons." --Dr. Egon Mayer, Center for Jewish Studies, City University of New York

"Children and parents will all find this wonderful resource a way to make their Hanukkah even brighter." --Rabbi Sandy Eisenberg Sasso, author of In God's Name and Cain and Abel: Finding the Fruits of Peace--and many other books for children and families

"From history to holiday practices, from rituals to recipes, brings new understanding and meaning to our celebration. An essential Hanukkah gift for every home and congregation." --Rabbi Lawrence A. Hoffman, author of The Way Into Jewish Prayer; Professor of Liturgy, Hebrew Union College­Jewish Institute of Religion


Description from Publisher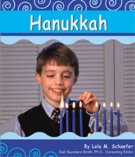 Hanukkah

by Lola M. Schaefer
One way to understand a different culture is to learn about its holidays. A straightforward text and plenty of full-color pictures explain the history of Hanukkah and how Jewish people celebrate it in the United States. One of the most recognizable symbols is the menorah and candle lighting that takes place over the eight nights of Hanukkah. Other activities such as the driedl game and eating special foods are also featured. The closing pages contain a short glossary, a few books and Internet sites and a word list/index. Part of the "Holidays and Celebratrions" series.


Description from Children's Literature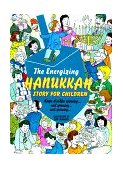 The Energizing Hanukkah Story for Children

By Chaim Mazo
This is a revised, expanded edition of Uh! Oh! Hanukkah, a combination of story, games, rebuses, riddles and activities about that favorite winter holiday. Bright and breezy, it guarantees hours of fun for kids and their parents, who will surely be mystified by such commands as "Check the Oil, Please!" and "Tanks, But No Tanks!" and "Right, Wrong, Left, Right." Lots of tongue-in-cheek, puns and good clean fun for the whole eight days. I only wish the publication, a bargain at $7.95, could have cleaned up cut-and-paste lines and done a better job on the quality of the color; but don't let that stop you from giving it a whirl.


Description from Children's Literature


Create Your Own Chanukah Sticker Cards

By Carolyn Ewing


Chanukah on the Prairie

By Burt E. Schuman
Chanukah on the Prairie is the perfect introduction to a little-known slice of American Jewish history.

As many Eastern European Jews immigrated to America, a small few traveled beyond New York City to the West. There, in the rolling plains, much like the homes they had left behind, Jews from all over Eastern Europe came together to make a new home.

Based upon true events, this poignant story by Burt E. Schuman with beautiful illustrations by Rosalind Charney Kaye, follows the journey of the Zalcmans as they travel from their small village in Poland to Ellis Island and ultimately to Grand Forks. This story is a wonderful addition to any child's library. Join in the joy as the new immigrants celebrate their first Chanukah in a new land.


Description from Publisher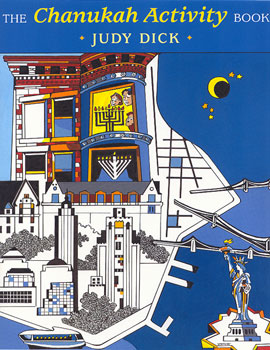 The Chanukah Activity Book

By Judy Dick
This is the way that Chanukah was meant to be celebrated!

The Chanukah Activity Book is overflowing with games and activities to use during the Festival of Lights. Judy Dick, author of The Seder Activity Book, has filled her new book with programs for children, grades K-6, and their families to use on each of the eight nights of Chanukah. As the candles burn and the latkes cook, your family will be experiencing Chanukah in a whole new way. Children will enjoy activities such as Maccabee word games, coloring their own chanukiyah, and discovering the symbols, rituals, and history of this holiday.

Whether they are working on their own or with their parents, at home or at school, The Chanukah Activity Book allows children to begin creating a personal and spiritual connection to Chanukah.
Includes relevent and age-appropriate Hebrew vocabulary
Offers a variety of perspectives on Chanukah and its history
Great for use in the classroom and at home.


Description from Publisher


A Different Light:
The Big Book of Hanukkah

By Noam Zion